7 Captivating Features of Bosch Washer and Dryer Sets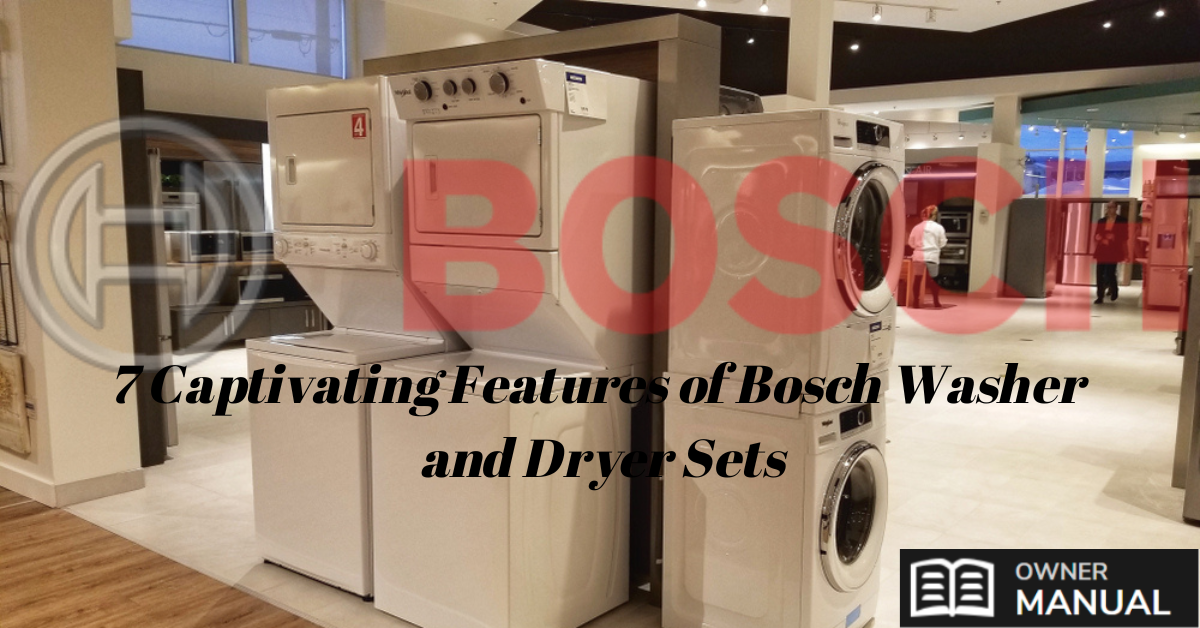 Are you wondering if the Bosch washer and dryer are worth the price? Maybe you want to learn more about what makes one Bosch washing machine different from the other? Anyway, I've got you covered!
Bosch offers some of the most sought-after compact laundry solutions in the market. When you buy a new washer or dryer, the terminology and jargon in the product descriptions can be confusing.
That's why we have created a simple, no-fuss guide to choosing the best Bosch washer and dryer models.
What makes the Bosch washer and dryer great?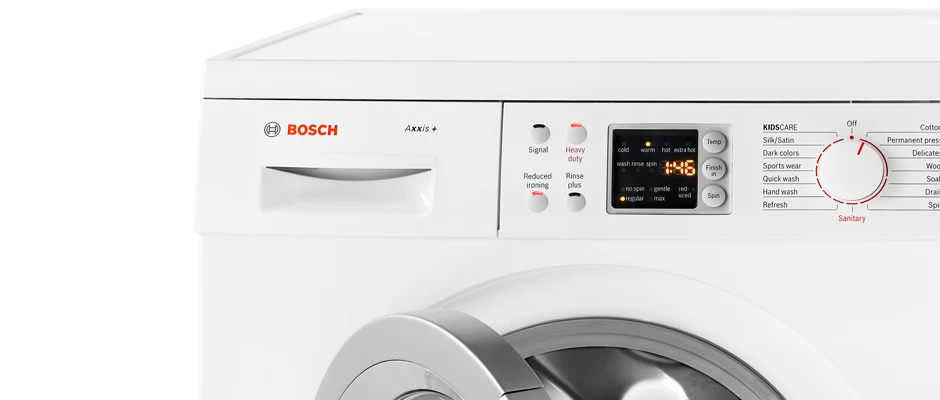 Bosch has earned a prominent place in our coveted list of the best washers and dryers this year. Here are some of the excellent features of Bosch laundry:
Cleaning and drying performance
A washer and dryer may have all the desired technology upgrades around the globe, but it doesn't matter much if they don't wash or dry clothes productively.
Luckily, Bosch models bring both with them. They have earned a reputation in the USA as a trusted brand and one of the country's most reliable and popular manufacturers.
Cleaning Performance
Let's talk about its cleaning power first. Bosch's wavy drums protect clothes with powerful yet gentle cleaning.
With nine options and fifteen cycles, your cleaning requirement has been covered. The 15 cycles include Delicates, Quick 30 min, Rinse/Spin, Hand Wash/Wool, and Drain.
Moreover, Permanent Press, Permanent Press Heavy Soil, Permanent Press Light Soil, Cotton Normal, Cotton Light Soil.
In addition, Towels, Allergens, Jeans, Heavy Duty, and Drum Clean. Options include Finish in, Extra Rinse, Prewash, SpeedPerfect™, Temperature, Spin Speed, Start/Pause, Signal, and Child Lock.
Drying Performance
When it comes to drying performance, Bosch makes no compromises either. Bosch offers a minimum speed of 1400 RPM for its washing machines, a higher speed than many other brands. It brings faster drying performance with a stainless steel drum having LED interior lighting, complemented by the option of condensation drying with an external channel.
Condensation is the latest innovation in drying technology. The Bosch Condensation Dryer utilizes an environmentally friendly solution to dry clothes gently at the optimal temperature without the requirement for external ducts.
How does it work? Let's have a look.
Cool air enters the dryer from the living area.
The heating element heats the cool ambient air on the dryer's back.
Hot air surrounds the drum, evaporating moisture from the load.
The combination of hot air and moisture causes air to circulate through the condensing unit.
The hot air and moisture condense in the water as it passes through the cool condensing unit.
The condenser unit collected the water and pumped it out by the drain pump.
Warm, dry air reheat and circulate back into the dryer drum.
The advantages of this drying method involve the fact that ventilation is not required, lower energy costs than ventilated models, and easier installation.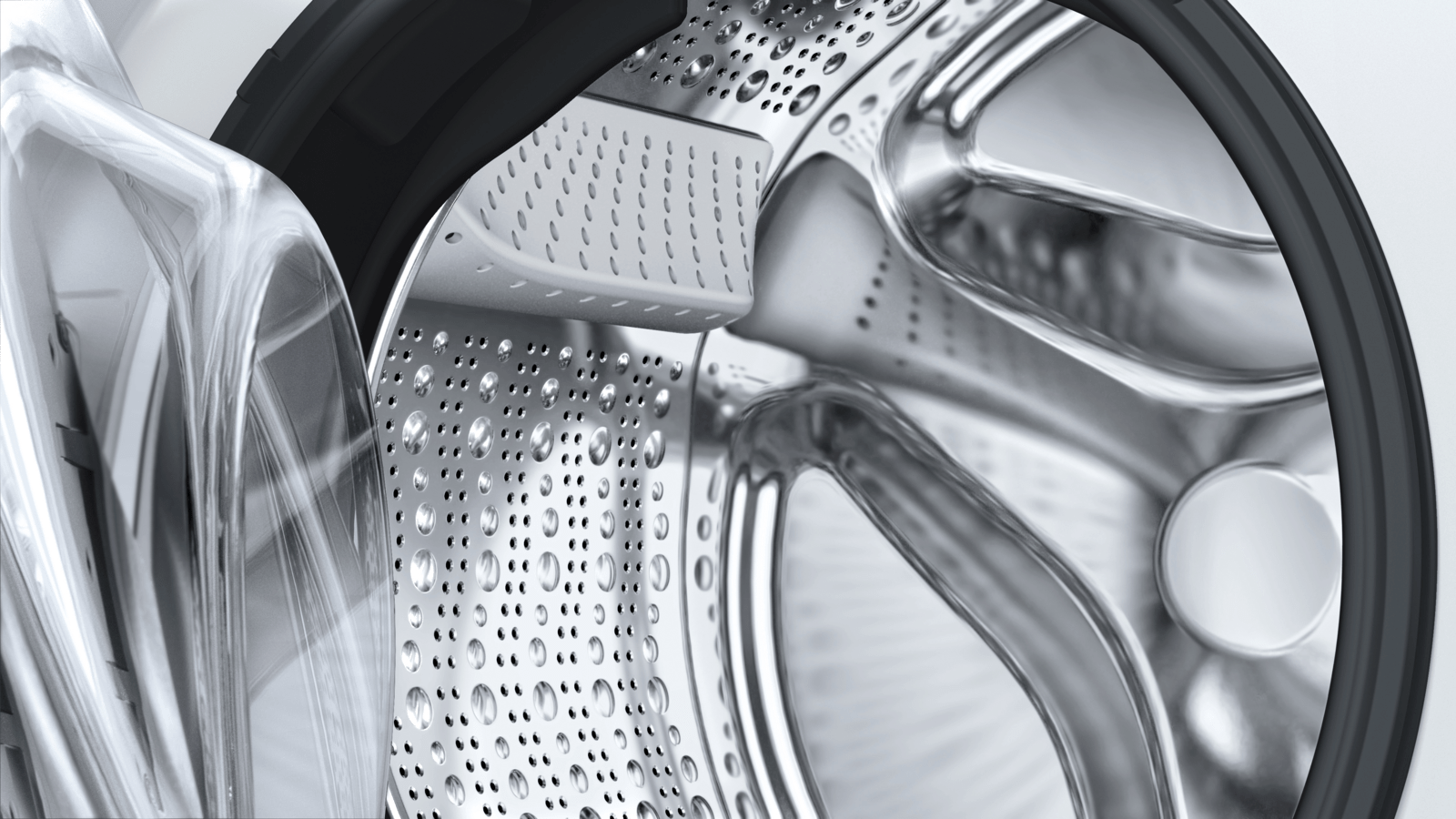 Energy Efficiency
Regarding energy efficiency, all Bosch washing machine models are Energy Star certified, exceeding all government standards for energy-saving design.
They have an internal water heater that heats water rapidly and more efficiently and ActiveWater technology that ensures efficient water use. A load adjustment feature automatically adjusts water utilization based on load size to lessen water consumption and energy.
Noise & Vibration
The latest machines from Bosch improve on their predecessors in all aspects, including noise and vibration. The new models' like the EcoSilence Motor deliver efficient, quiet, and long-lasting performance. However, Anti-Vibration Circulator Walls decrease vibrations for peace of mind and safety.
A less disruptive laundry experience requires a Quiet operation in the laundry room. Bosch's patented AntiVibration system uses sensors that analyze load weight and drum movement to eliminate imbalance.
The circular profile strengthens the sidewall and enhances the stability of the washer. It lessens vibrations by up to 30%, making your laundry day smoother and more peaceful.
This structure, combined with improved insulation, controls the noise level between 54 dB during washing and 73 dB during spinning for the 300 series. Washing machines from the 500 series are quieter at 52/72 dB. Ultimately, the Bosch 800 series takes silence to a new level with 50/71 dB.
Ergonomics, Size, and Configuration
Regarding ergonomics, you cannot beat Bosch in this run. Each model is available in a 24″ width with a minimum stack height of 67 and 3/4″ with a dryer set. The Bosch 24-inch laundry pair can be stacked side-by-side, installed on pedestals, in a cupboard, or beneath the counter for maximum flexibility.
Bosch washing machines also feature a smooth design that offers top-notch installation. That means you can easily stack them in a cupboard. Also, remember that you can connect the washing machine directly to your dryer for easier installation.
Eventually, 24″ Bosch washing machines are compliant with ADA (Americans with Disabilities Act). It means they meet ADA height, access, and serviceable parts requirements for ease of use.
Connectivity
Thanks to Home Connect™, Bosch washers and dryers let you start a cycle from anywhere using your smartphone or tablet. Those last-minute changes to your laundry cycle don't have to throw off your entire day. Home Connect™ even provides energy and water consumption information for each laundry program, giving you more information and customization than ever before.
Wrapping it up:
If you want a functional, convenient and reliable washer and dryer set that's easy to use and maintain, the Bosch washer and dryer sets are worth a look. And if you want to learn how the specific model you buy works, check out Ownermanual.co and download the manuals of your required model.