Why you must consider Samsung Digital Door Locks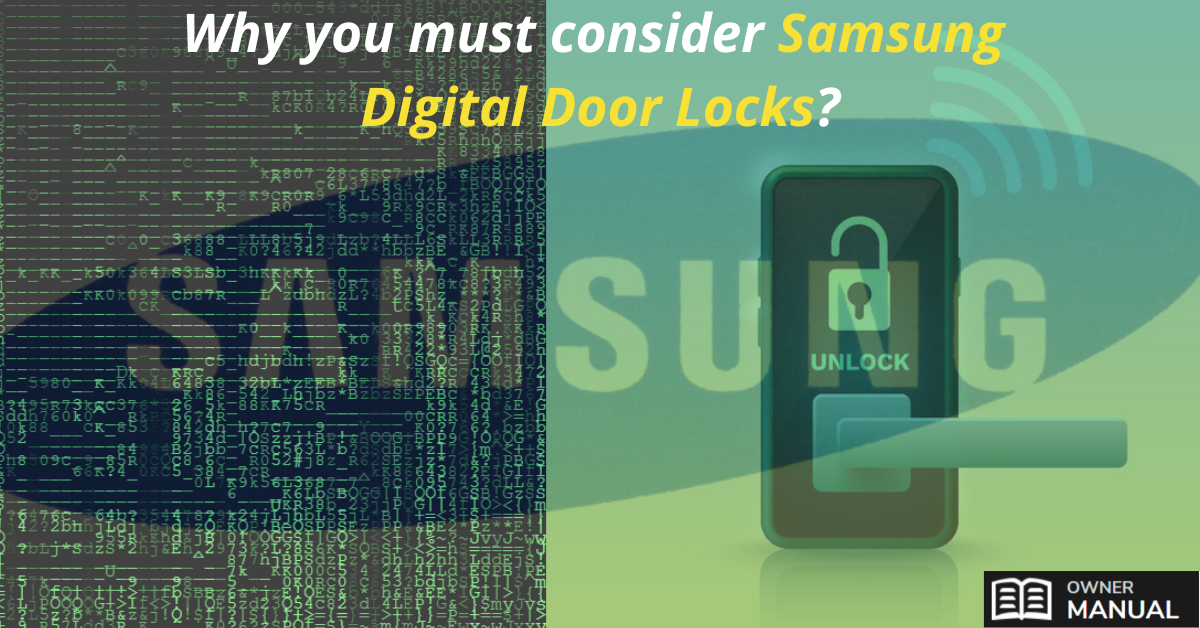 The Samsung digital door locks can check door activity and send  alerts to the paired device. Samsung digital lock is mainly designed to perform door locking and unlocking activities.
Samsung digital door locks always maintain security standards for keeping strangers out; this is one reason for this sincere review.
Why Samsung digital door locks?
You must invest in a Samsung digital door lock for numerous good reasons. One of the reasons is that it is the product of Samsung, a company known globally for its many useful and innovative electronic products.
As their products are recognized internationally, overall reviews on Samsung locks have been positive, it says a lot about how trustworthy these products can be.
Another reason is that Samsung locks are generally a combination of various locking system types.
Take, for instance, the SHS 3321, a keyboard lock and RFID card reader and the SHS-P718 fingerprint door lock with biometric and keypad combination.
We provide you with a rundown of the best Samsung digital door locks to help you make a good purchase.
Samsung Door Lock: Some Features to Consider:
The following reasons provide solid reasons for considering Samsung Smart locks.
Multiple Functions:
Samsung offers simple keypad or fingerprint locks and different combinational locks to ensure complete security against intruders. You could also opt for an advanced and highly responsive keypad which allows users to enter their passwords.
RFID door Locks :
Most tech developers' digital locks come equipped with an RFID card system, so authorized users can use one of the four cards accompanying every system.
Fingerprint Recognition Locks:
Samsung offers different fingerprint access control systems, such as the SHS-P718 fingerprint door lock, which can store up to 100 fingerprints while giving off the functions of both other lock types.
Emergency Backup Function:
In addition to providing mechanical keys, Samsung equips your locks with a 9V battery, so you'll never locked out during an emergency power outage again!
Easy Installation:
You can install these locks in minutes. If you're worried about installation, contacting a security solutions provider for assistance may make sense.
After all, spending an extra few dollars can save you millions later on down the line.
Which is the best Samsung Digital Door Lock?
Following are most preferred Samsung Digital locks
Samsung SHS-P718 push-pull biometric: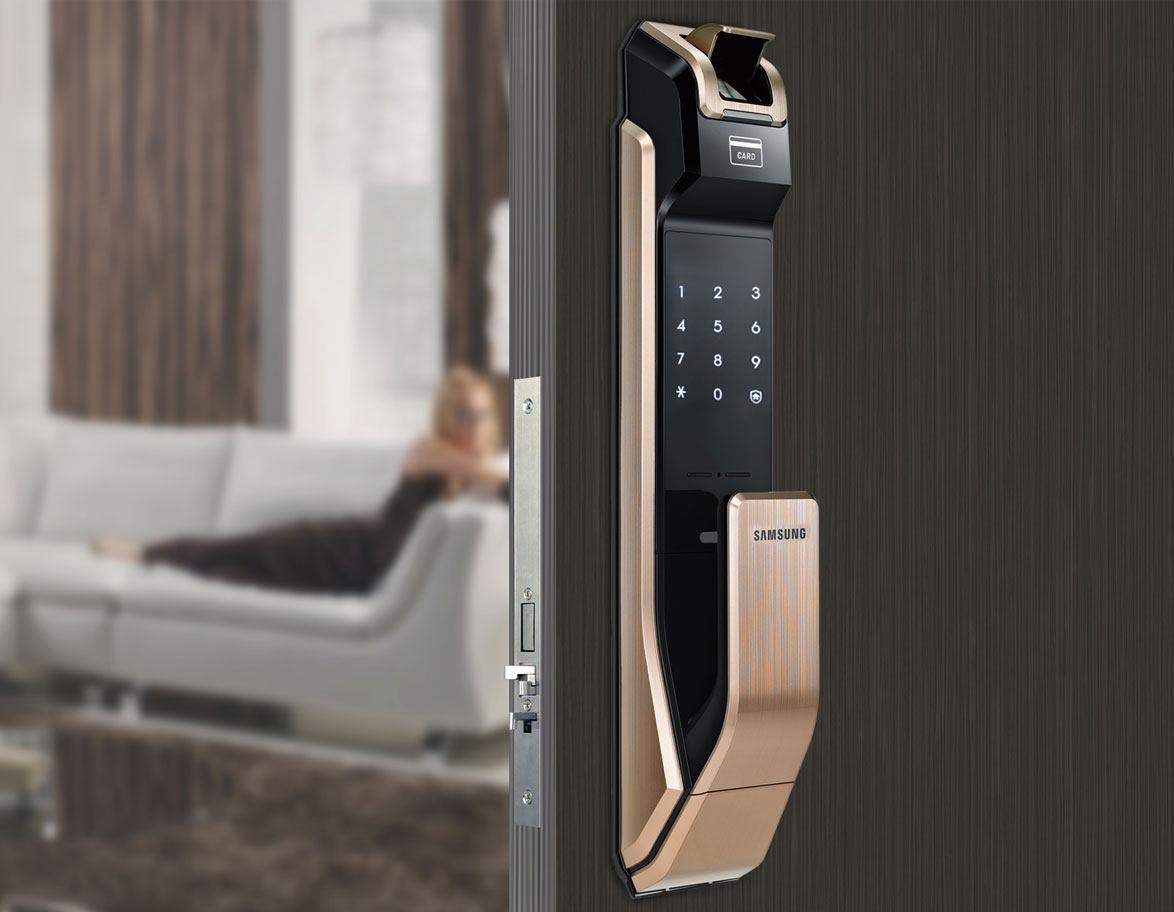 The Samsung SHS-P718 Push-Pull Biocal Touchscreen Biometric Door Lock includes various features, such as fingerprint entry and unshared internal hardware design.
It accommodates doors that are at least 39 inches wide with a minimum width of 115 mm. This model is suitable for either left-handed or right-handed people.
Simply open the door using your registered fingerprint–no more worries about hiding away keys.
Thanks to this simple high-security digital touch screen biometric door lock system from Samsung (with 30 people capacity), you can get in to see friends or even guests without any hassle whatsoever.
Allowing fire warnings and providing auto-locking, you never have to worry about giving someone else access once you leave home.
Most importantly, you can manually unlock the door whenever necessary, so you never need to worry about forgetting the setting.
Samsung SHS- 1321 Digital Door Lock: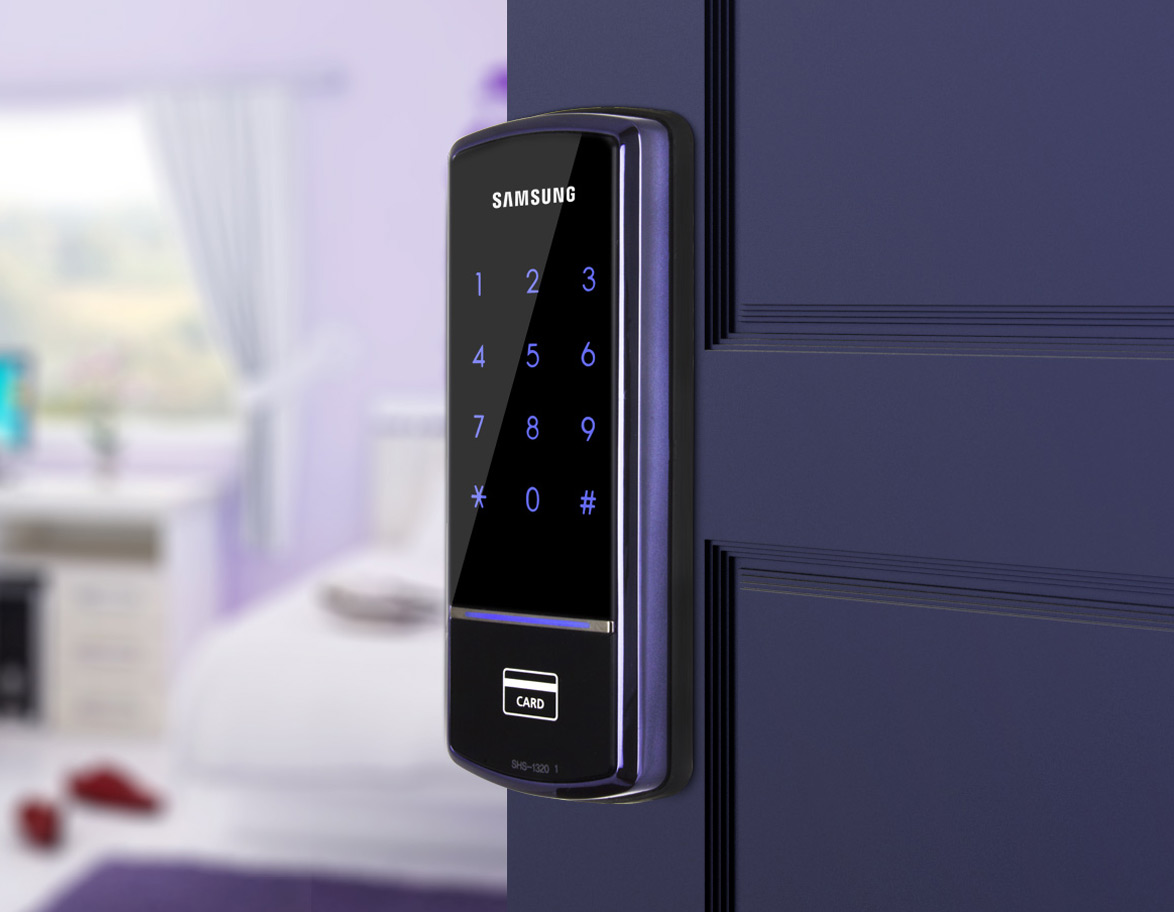 The Samsung SHS-1321 Digital Door Lock is user-friendly, sleek and stylish. It can fully fulfill most people's needs for a high level of security.
With this smart lock at hand, not only do you have the conventional magnetic key option (which is still essential) but also double digital authentication, which requires both entry cards and passwords before anyone can unlock it remotely.
After closing the door, it automatically gets lock, too, saving time from doing so manually later or worrying about forgetting to do so before leaving for work! However, some unfortunate disadvantages exist, such as the tendency for touch screens like these locks to crack easily.
However, their new convenient feature has greatly alleviated this issue by alerting you when your batteries need replacing.
Samsung SHP-Dh538 Fingerprint Digital Door Lock: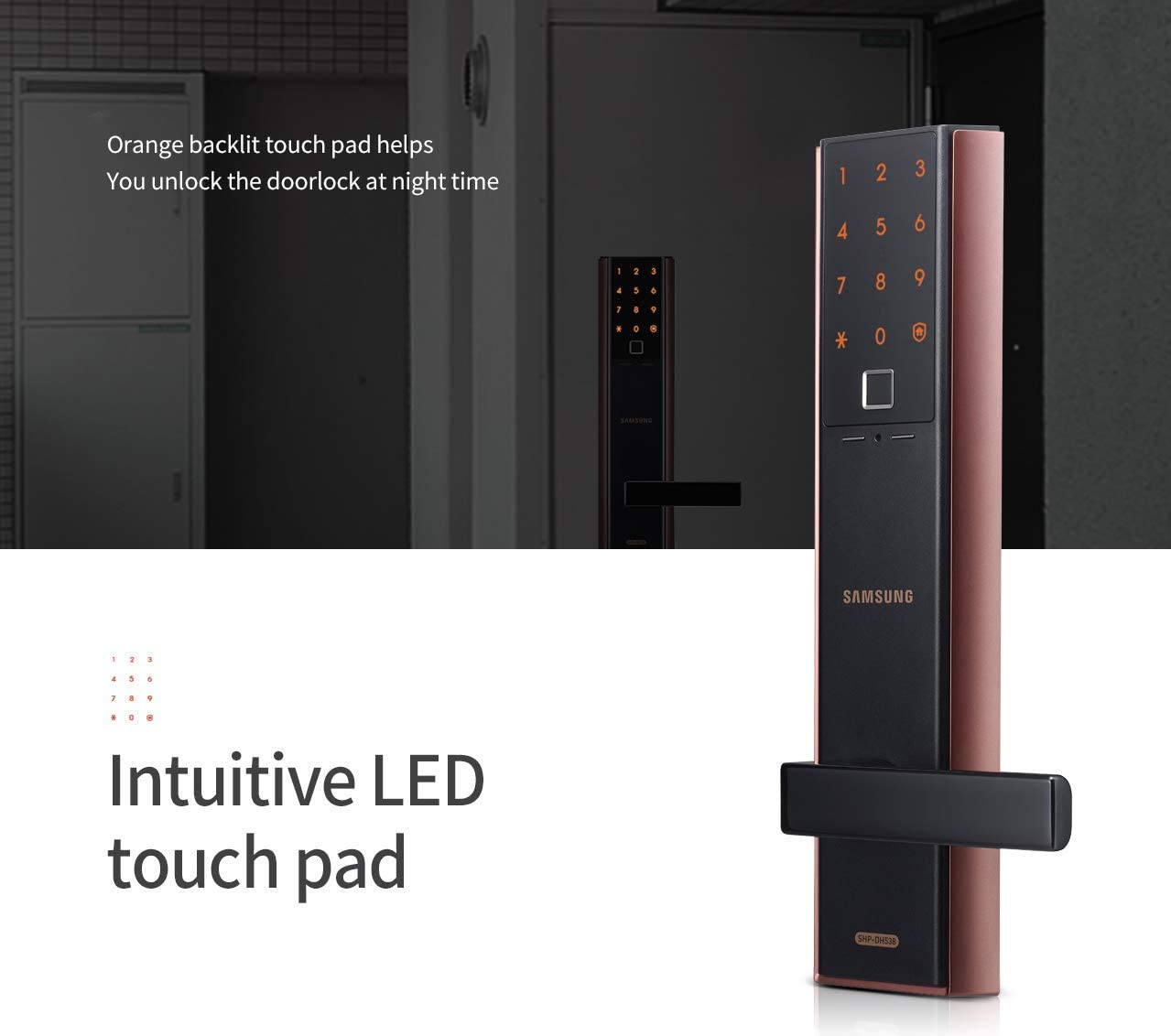 This piece has got you covered when you want an elegant Samsung digital door lock that compliments your futuristic design style. Similar to how most people unlock their smartphones these days with passwords, the user can also gain access using their fingerprints.
What makes this digital door lock even more awesome is that, unlike most other products on the market today, it doesn't suffer from things like humidity or temperature fluctuations – causing its accuracy to drop off over time.
Suppose you've got a little kid wiggling his way around every system. In that case, don't worry because this product lets users adjust what sounds play when unlocking the door: turning down the volume during nighttime hours and enabling a fun little musical melody are just some of the features you'll get in its settings.
Samsung Ezon SHS 3321: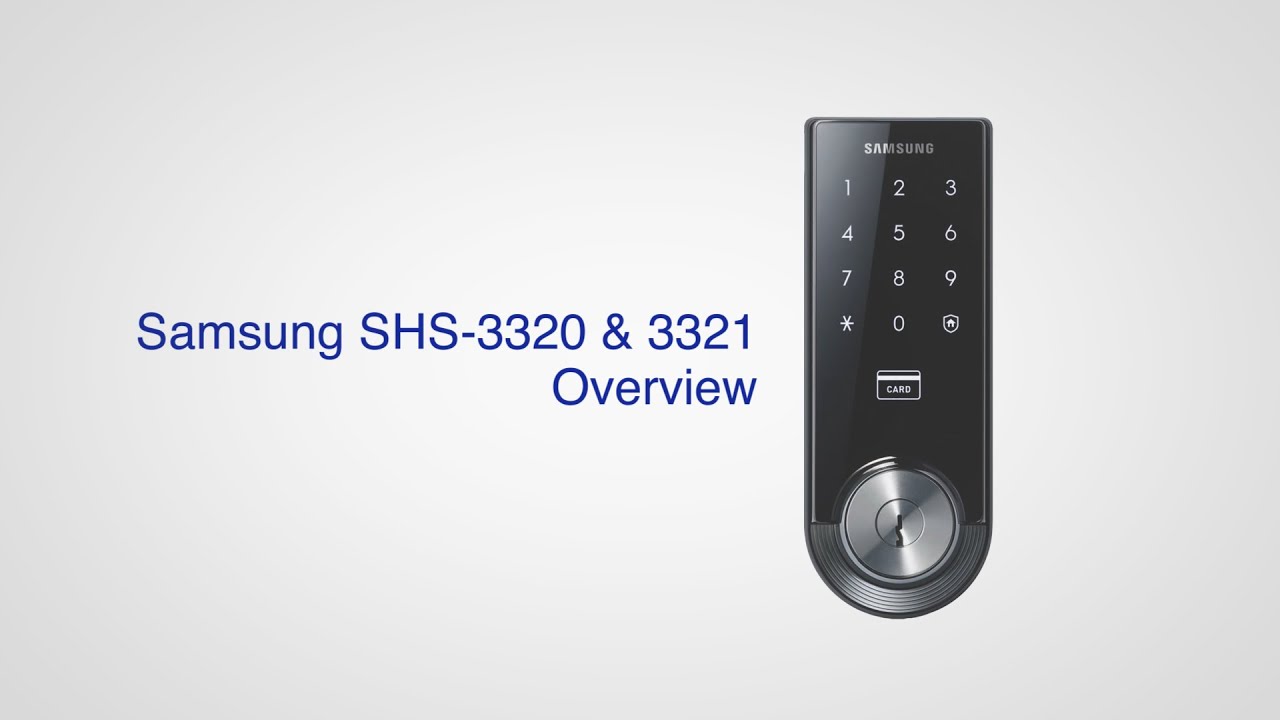 Ezon SHS 3321 is one of the sleekest locks you'll find on the market today. The most prominent feature of this Samsung door lock is that it locks automatically when you close it.
Helps prevent doors from remaining unlocked if you forget to lock them at all times. This Ezon SHS 3321 door lock provides a wide range of protection for your home against burglars and thieves.
A few other impressive features include the Samsung Ezon Lock's built-in fire alarm and anti-theft sensor. As soon as an intruder presses a button, they'll greet with an enticing sound; they can't do anything without being caught!
And those who want even more protection should know that there's also dual authority to use a password and NFC card – at the same time -to unlock this Samsung door lock installation can be tricky for beginners. Still, there are plenty of tutorials out there which make it easier.
Samsung SHP-DS510MK Door Lock: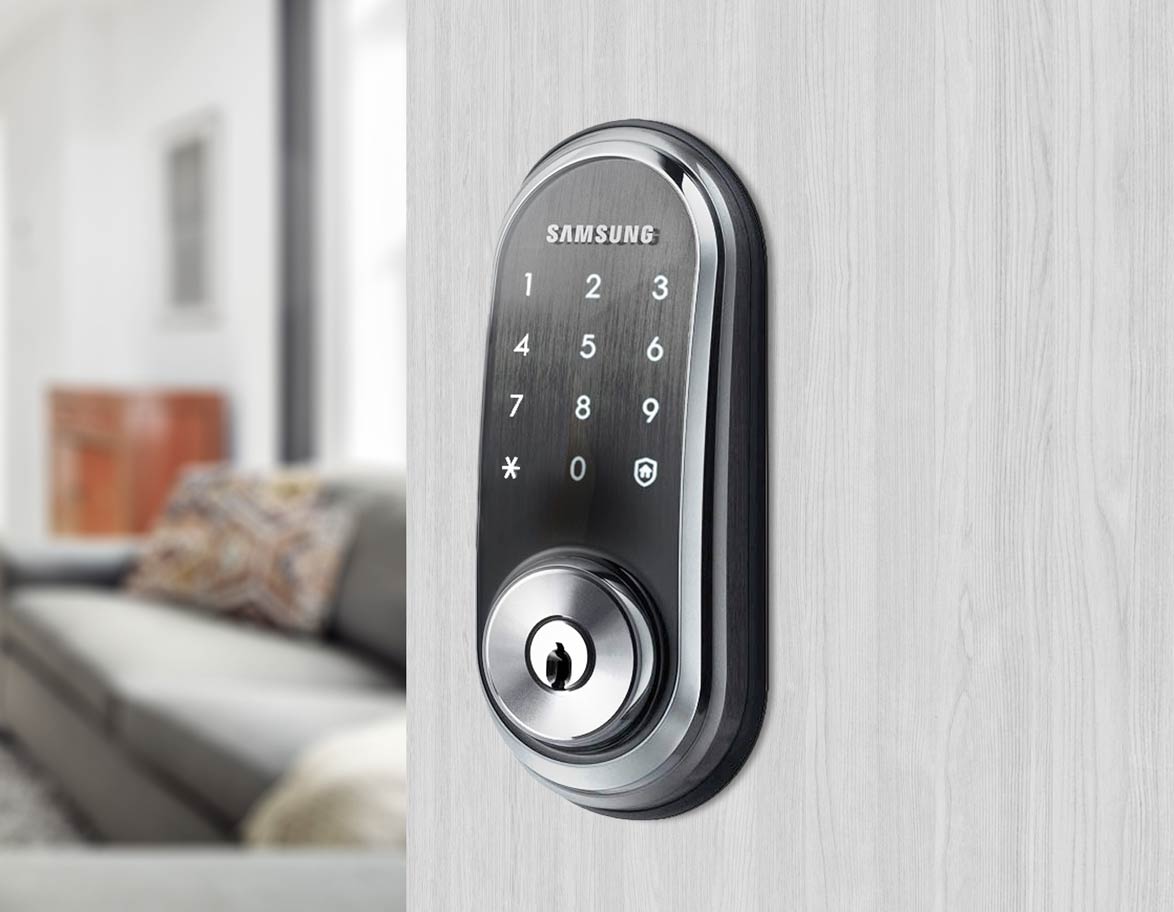 The Samsung door lock features many impressive and useful features. You can add two different codes for security, while a fire detection sensor is also available inside of the unit in case of emergencies.
If the temperature inside reaches 60 degrees, an alarm goes off simultaneously as the door automatically unlocks itself. A crime-setting component also sounds like an alarm when somebody breaks through your front door!
Finally, with its automatic locking system, it will automatically lock itself if you forget to close the door.
In conclusion, Samsung digital door locks are not only very convenient, but they will help you save time. These digital locks will make it much easier to enter your home and lock the door without having to mess with traditional keys.
You should upgrade to a new digital lock from Samsung today to enjoy all the extra time this will save!
For more assistance, you may also visit Ownermanual.co to download user manuals of Samsung door locks and other products.