The 5 Best Countertop Microwave Ovens of 2022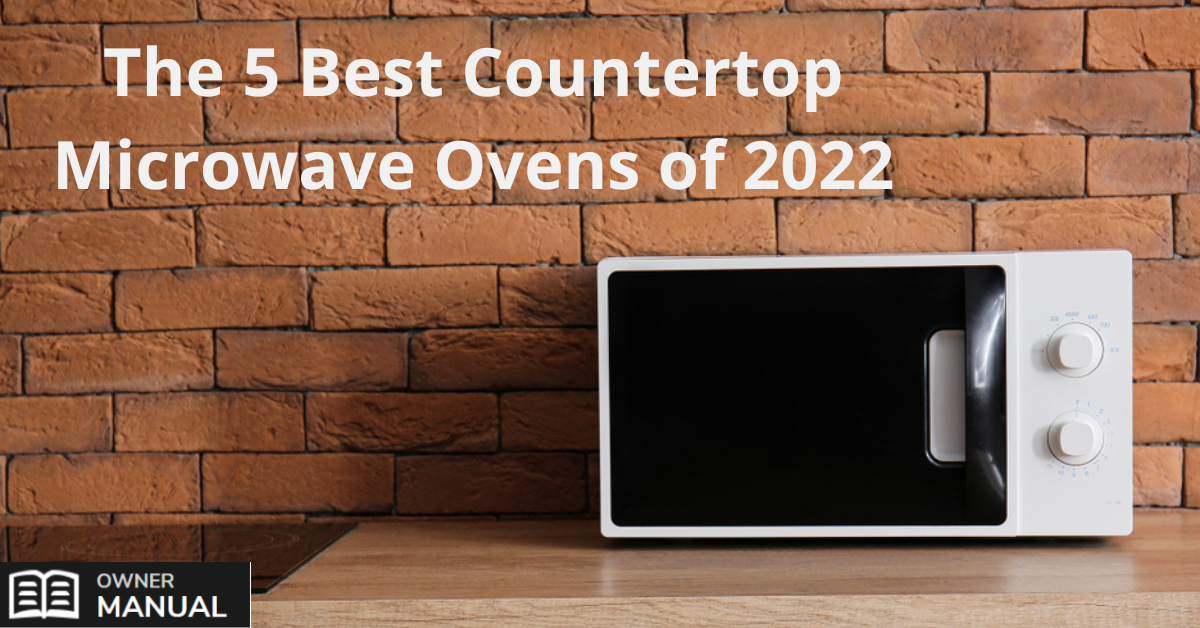 Countertop microwave ovens are the crucial kitchen appliances for everyday use. However, you don't often think of them on a deeper level. That makes it especially difficult to buy a new microwave when your old one runs out. What features are you looking for? Which features are important? Do conventional microwave ovens come in multiple sizes? Of course, an important part of using a  microwave is how well it heats food, but we've gone deeper. We measured  features such as programmable buttons, door type, size, and easy-to-clean interior surfaces.
Top 5 Countertop Microwave Ovens to Consider
Toshiba EM131A5C-BS Compact Microwave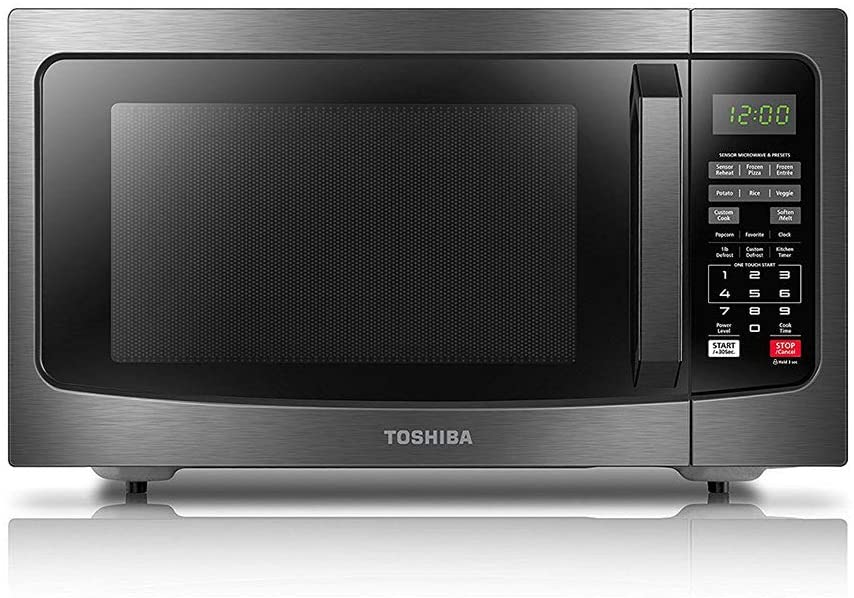 Toshiba's EM131A5C-BS wins first place for two important reasons: first, it has excellent conventional features that fit best in any kitchen, including 1100 watts and 1.2 cubic feet cooking area. Enough power and size to cope with almost any food or plate. Second, this countertop microwave oven offers one of the best price ranges, around $100, which easily fits most budgets and makes it the best countertop oven overall.
Of course, Toshiba's other features also convince  users, like the programmable one-touch buttons can save time. They also use sensors to detect moisture in food . Plus, the "Easy Clean" interior adds a smooth coating to the microwave's inside , making it easy to clean up spills.
The microwave also has an "ECO" mode, so you don't need to  consume as much power. You can turn the sound on or off while putting something in the microwave. It can be very helpful for anyone who needs to keep their kitchen quiet during their microwave sessions.
Key Features
Watts: 1100
Power Levels: 10
Capacity: 1.2 cubic feet
One-Touch: 30 Seconds, 6 One Touch Start buttons, Defrost Options
Panasonic NN-SN651BAZ Compact Microwave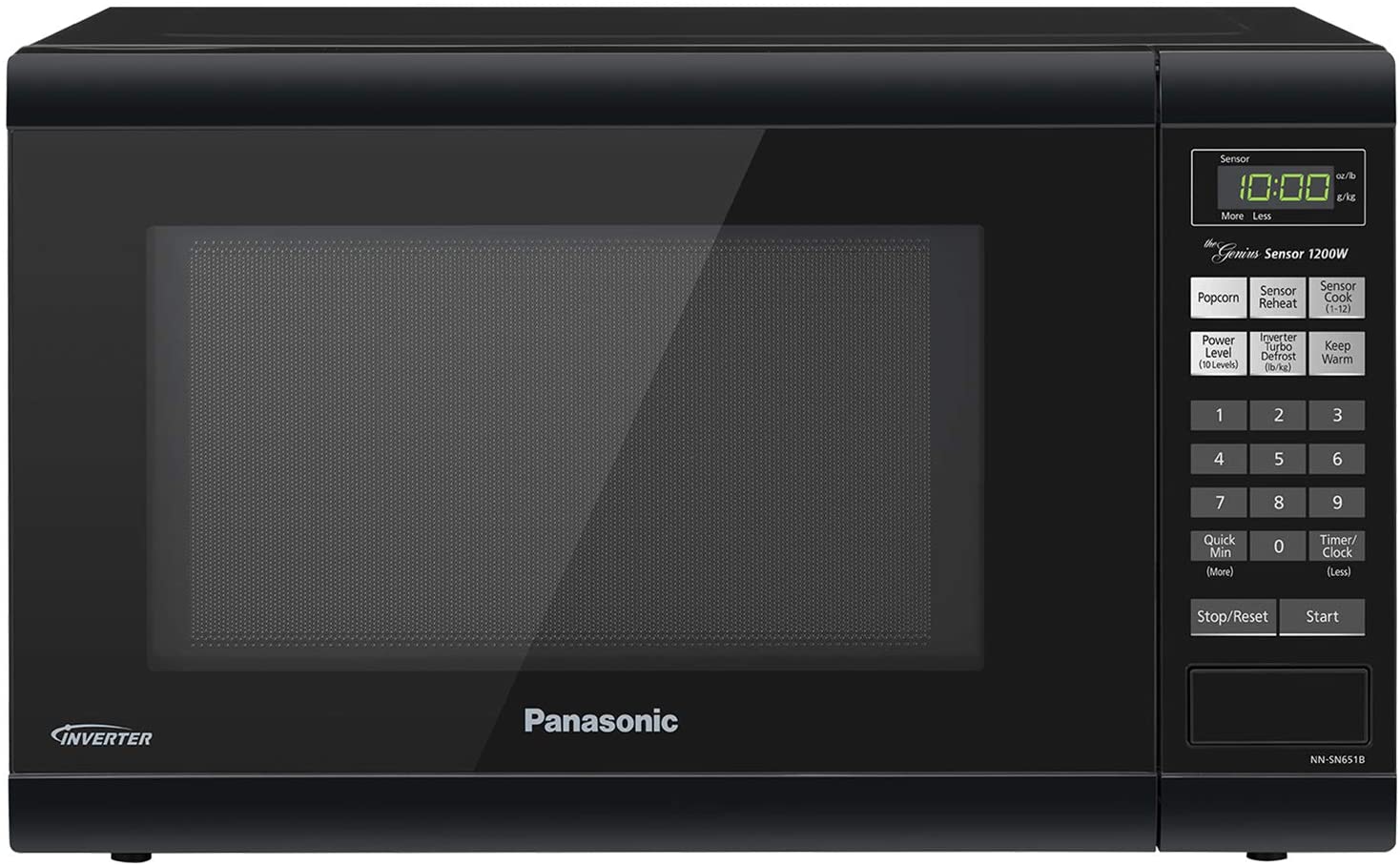 This sought-after Panasonic microwave oven with inverter technology has fewer features but more power i.e 1200 watts. The microwave can heat food quickly and handle large quantities more easily, especially with the microwave's 13.5″ turntable. It also offers ten power levels. These functions give you plenty of control over microwave times. However, there are touch buttons that take a look at your food and automatically select what looks right if you're still unsure. Actual food buttons aren't available (except for popcorn), but everything else is there, including "keep warm" and "delayed start" options.
This model emphasizes the inverter technology, which deserves a brief explanation. Generally, it means microwave energy has more efficiently controlled realistically for example, level 5 is half  as powerful as level 10. Other microwaves utilize power levels to switch on and off at 100% power, which isn't quite good. This inverter technology provides this model an extra boost to our list. If you are looking for inverter technology, the best microwave brand is Panasonic or GE, which specializes in this feature over the rest. This best built-in microwave inverter is one of the best models. Excellent for baking potatoes.
Key Features
Watts: 1200
Power Levels: 10
Capacity: 1.2 cubic feet
One-Touch: 60 Seconds, Popcorn, Sensor Cook, Reheat
Cuisinart CMW-100 Compact Microwave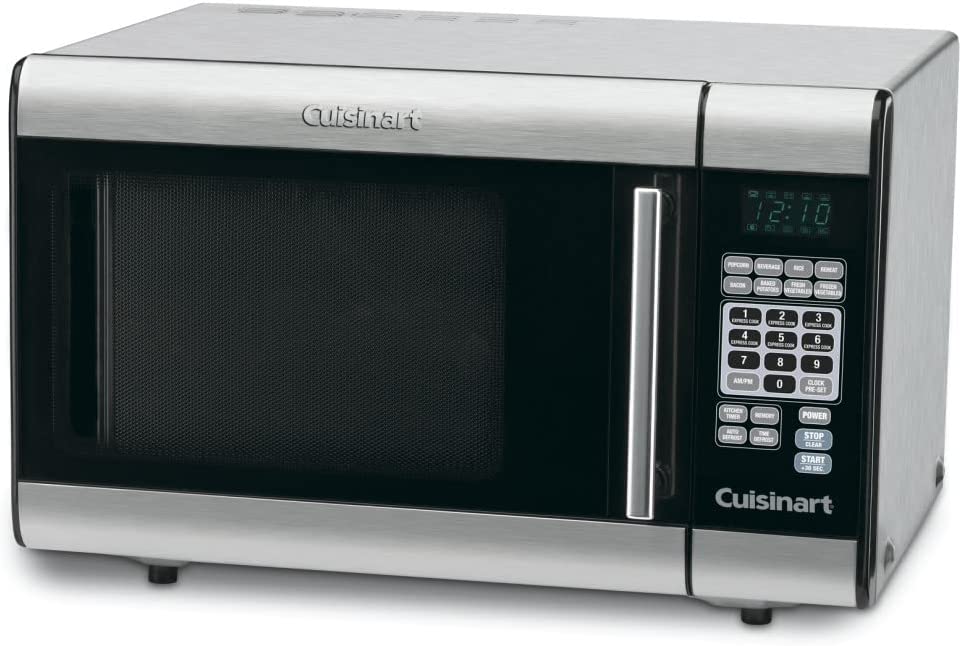 If you want a small countertop microwave oven, Cuisinart is a great option for you. It's smaller at a cubic foot of space and a little less powerful at just 1000 watts. But it still offers almost all the features you need to cook your food quickly, even if it's a little more complicated than usual. This model presets are impressive, including eight food presets that let you control portion size. It gives you 25 multiple cooking opportunities for foods such as rice, bacon, frozen vegetables, and baked potatoes.
There's also two-phase cooking for longer cooking times that require defrosting or other on-the-fly changes. Due to its small size, this oven is excellent for smaller kitchens where every space is important.
Key Features
Watts: 1000
Power Levels: 10
Capacity: 1 cubic foot
One-Touch: 30 Seconds, 8 Food Presets, 2 Defrost
Amazon Basics Smart Microwave with Alexa
If you need a compact and feature-packed countertop microwave, look no further than the Amazon Basics Microwave. It not only connects with Alexa so you can start and stop the microwave with your voice, but it comes with 24 presets. There is also a kitchen timer, child lock, and power of 700 watts.
It has a turntable, but you will require an Alexa smart speaker to utilize the voice features. But who doesn't? This microwave measures 17.3 inches x 10.1 inches x 14.1 inches.
Key Features
Watts: 700
Power Levels: 10
Capacity: 0.7 cubic feet
One-Touch: 30 Seconds, Defrost
Panasonic Microwave With Genius Sensor Compact Microwave
This Panasonic microwave offers 1100 watts of power with a capacity of 1.3 cubic feet. It also includes ten power levels. One of the highlights here is the Turbo Defrost, which creates a seamless stream for consistent, evenly cooked food without overcooking. The modern Turbo Defrost speeds up the defrosting time and works very well. You will love the quick defrost. The built-in automatic genius sensor adjusts power and time based on various foods. Other features include seven predefined menu items, a delayed start, a quick-minute timer, and the all-important child lock.
The Genius sensor measures the steam produced during cooking and signals the oven's microprocessor to evaluate the remaining cooking time, regardless of the power level. It is an excellent way to warm up those potatoes. At 1100 watts, it is a great Panasonic microwave oven with some great cooking features.
Key Features
Watts: 1100
Power Levels: 10
Capacity: 1.3 cubic feet
One-Touch: 30 Seconds, Defrost
How to select the best countertop microwave oven?
Countertop microwave ovens are very resourceful devices, so you must consider size, power, and features according to your requirements. You also should not go below one cubic foot of internal area, which is typically the limit on the size of most plates and cups you are using. Our first two picks even have huge cooking spaces, 1.2 cubic feet, that can handle anything in the average household.
To know more about microwave ovens and their usability, you may visit Ownermanual.co and download their user manuals for free.