5 Best Column Refrigerator & Freezer Sets of 2021
Finding the best column refrigerator does not have to be a difficult task!
Built-in refrigerators come in a range of shapes and sizes, making it difficult to determine which styles are right for your home. Column refrigerators are full-sized, single-purpose refrigerators that are built into a wall or cabinetry.
The key benefit of a column refrigerator over a side-by-side refrigerator is the improved versatility of how you can organize your kitchen. A column refrigerator allows for that sort of arrangement if you would like a wine cooler between your refrigerator and freezer!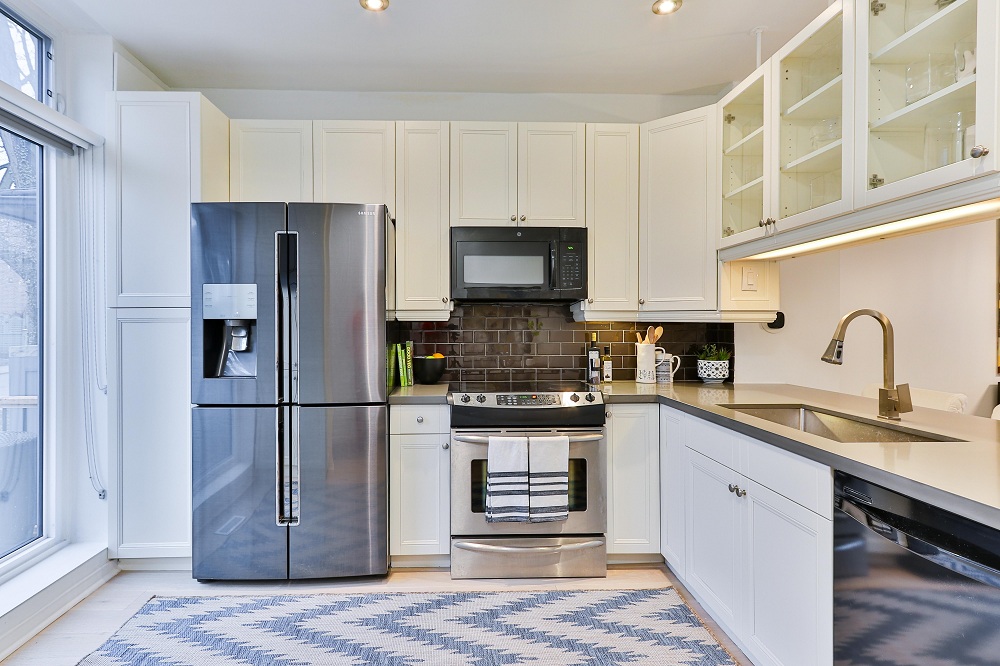 Sub-Zero 36 Inch Built In Counter Depth All Refrigerators – IC36RLH
This integrated column refrigerator certified by Energy Star will effectively vanish into your wall or cabinetry surrounding it. This sleek stainless steel fridge features interactive, smart-touch controls to regulate temperatures and other convenient settings accurately. The interior features customizable spill-proof nano-coated shelving that alleviates the need for plastic edging and makes it a cinch to clean up. This model includes multiple adjustable racks, compartments, and dividers as usual.
Additional features of these refrigerators are Soft-On LED Lighting, Soft-Close Door, Panel Ready, and Uniform Height.
Thermador Freedom Series 30 Inch Built In Counter Depth All Refrigerator – T30IR800SP
The new Thermador Freedom series column refrigerator is an Energy Star-rated system with several convenient features. This model comes with pre-installed panels and can be customized or outfitted with sleek stainless steel panels. The FREEDOM hinges that come standard on this refrigerator make the simple design of the flush installation. Things kept on the door are as cold as those kept on the shelf due to the FreeFlow cold air system. Use modern electronic controls for effective temperature monitoring.
Additional features of this refrigerator are: All LED sidewall and theatre lighting, SuperCool – Chills food quickly, Adjustable Glass Shelves, Cantilever Racks.
Marvel 36 Inch Built In Counter Depth All Refrigerator – MP36RA2RP
Style and functionality are merged into a sleek, modern style in this professional, built-in column refrigerator. The Dynamic Cooling Technology air flow system in this refrigerator ensures that cool air is distributed uniformly across the appliance. An integrated ion air purifier eliminates bacteria and mould from the air, removes odours, and improves food preservation. Use the easy-to-use digital controls to keep the temperature within one degree of your desired setting.
Additional features of this appliance are: Energy-Efficient Variable Speed Compressor, Moisture-Control Evaporator, Maintenance-Free Condenser Coil, LED Lighting, Panel Ready.
Dacor Modernist Series 24 Inch Built In Counter Depth All Refrigerator – DRR24980RAP
The newest fully integrated column refrigerator from Dacor blends high-quality construction with outstanding convenience. This Energy Star-qualified built-in panel-ready refrigerator is filled with environmentally friendly technology. The integrated control panel provides precise temperature control and enables the aesthetic to be seamless. Flexible temperature features allow the Flex Zone drawers to offer optimum cooling for deli products and beverages. The lighting of the 3-sided linear LED design gives your refrigerator an elegant and classy look.
Additional features of this fridge are Tinted Glass Box Cover, Easy Open Door, Seamless Internal Dispenser, Camera & Wi-Fi, Precise Cooling.
Bosch Benchmark 30 Inch Built In Counter Depth All Refrigerator – B30IR800SP
This Bosch Benchmark built-in refrigerator features revolutionary functionalities and is custom panel ready for an all-around comfortable appliance experience. The MultiAirflow fan-assisted device allows gentle waves of cold air to enter all areas of the refrigerator, ensuring accurate, even temperatures throughout. The SuperCooling feature allows for fast food cooling and prevents food from warming up to undesirable temperatures in the fridge. Optiflex hinges permit for flush-mounting and seamless installation into surrounding cabinetry.
Additional features of this refrigerator are: NoFrost, LED Lighting, Energy Star, Full-Length Cantilever Racks, Electronic Controls for Precise Temperature Management
5 Best Freezer Sets of 2021
If your freezer is overflowing and rapidly turning into a jigsaw puzzle, you might want to consider an upright model that provides more space—and, ultimately, a sense of relief. This type of freezer is a game-changer, as it can be set up in your kitchen, where at dinner time or in your garage, you can easily access your chicken and sweet potato fries. They come with double doors or additional capacity, so you can easily see what you have at the grocery store and not buy the same item twice.
The best upright freezers on the market are below:
Best Overall: Frigidaire FFFU16F2VW 16 cu. ft. Frost Free Upright Freezer in White
Thanks to the EvenTemp Cooling System of the company, this pick from Frigidaire gives you plenty of space to store anything you need and makes sure it stays frozen tight. To prevent warm spots from developing and eventually spoiling your food, this technology circulates air. This upright freezer has one of many functions that make it the best shopping choice, hands-down. It can withstand temperatures ranging from 0 to 110 degrees Fahrenheit.
Best Compact: Magic Chef MCUF3W2 3.0 cu. ft. Upright Freezer in White
It's likely that you don't need a lot of extra freezer space and prefer a smaller model like the Magic Chef MCUF3W2. There are only 3.0 cubic feet of storage space in this upright freezer, suitable for smaller homes, apartments, or RVs. Use the manual controls to change the temperature of the interior from somewhere between -4 and 6.8 degrees Fahrenheit once you install it.
Best for Convenience: Whirlpool WSZ57L18DM 17.7 cu. ft. SideKicks Frost Free Upright Freezer
This upright freezer makes it easy to store and access food in the way that works best for you. It has approximately 18 cubic feet of storage space for your groceries and prioritizes usability with bright LED lighting and five-door bins. This model has five-door bins and one bulk storage basket, and four shelves to help you stay organized and stress-free.
Best Budget: Danby DCFM110B1WDB 11.0 cu. ft. Chest Freezer in White
This Danby choice is perfect if you're looking for a high-quality piece with a low price tag. It can store a decent amount of food inside at 5.0 cubic feet, and it keeps everything within its three parts organized. The temperature is regulated by a thermostat, which you can change to your desired cooling level.
Best Chest: GE FCM11PHWW Garage Ready 10.6 cu. ft. Chest Freezer
The spacious GE FCM11PHWW is for you if you don't need quite the massive capacity of an upright freezer or you need something a little more reasonably priced. It has a total of 10.6 cubic feet, which is more than enough for a family that likes to stockpile frozen foods, and it is Energy Star-certified for efficiency and energy consumption.
Up-front temperature sensors, manual defrosting, interior lighting, and three baskets that slide and lift out to help keep content organized are few more features of this model.