6 Crucial Things to Consider When Buying a New Refrigerator
Buying a refrigerator is an important investment. Of course, budget is a key concern for anyone when it comes to buying a new refrigerator. But before you get that far, take some time to consider the following essentials on the journey to your new fridge.
6 things to think about while buying a new refrigerator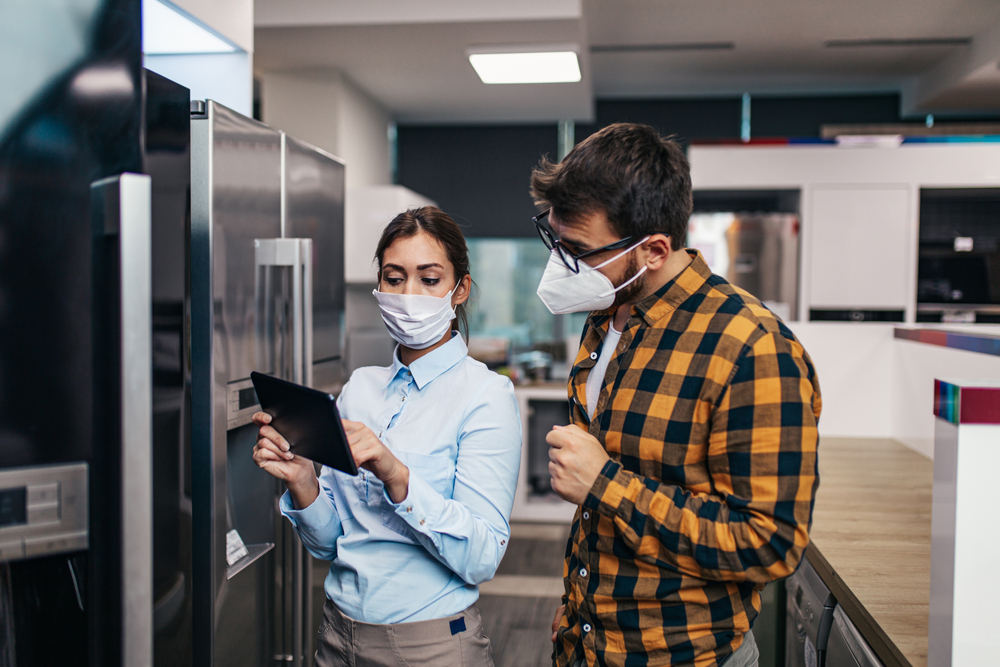 What type of refrigerator do you need?
There are four kinds of fridges and freezers available to potential buyers today. These four are; Side-by-Side, French Door, Top Freezer, and Bottom Freezer. Once you have determined which one is perfect for your kitchen and home needs, you're well to successful shopping.
Side-by-Side:
Divided down the middle with the freezer compartment on the left and chilled and fresh food on the right, storing them at any height. Most models favor chilled ingredients and provide a few extra inches on this side. 
Pros: Striking features in a relatively compact device
Cons: Difficult to fit wider items at times, limited compartments
French Doors:
By far the roomiest option, French Door refrigerators have a drawer-style freezer at the bottom and a two-door cooler at the top and full width. You will typically find a few flashy features inside, like ice makers and drink dispensers. The fact that French door refrigerators are by far the most sought-after style means there's a wide selection to select from too.
Pros: Size, huge capacities with lots of features
Cons: Size, make sure you can get it in your home
Top Freezer:
With the top third dedicated to the freezer compartment and the bottom third to the main refrigeration compartment, Top Freezer style fridges remain very popular due to their affordable, compact, and versatile build.
Pros: Ideal for small budgets and kitchens
Cons: Lack of bold features and smaller capacity
Bottom Freezer:
The freezer is similar to the Top Freezer, however, with the freezer compartment below. They tend to be slightly larger, with a 50/50 split between frozen and chilled space. It means chilled foods are easier to reach, but you'll have to bend down for frozen vegetables and ice cream.
Pros: Increased freezing capacity and more easily accessible chilled products
Cons: Less variety, difficult access to freezer
What size fridge should you consider when buying a new refrigerator?
You can get the answer to this question by the following consideration; Counter-depth vs. standard and kitchen size.
Counter-Depth vs. Standard:
Refrigerators are available in two sizes; counter depth and standard. Counter-depth means the refrigerator is as deep as your kitchen worktops, so it sits flush with counters, worktops, and cabinets. Counter-top refrigerators look stylish and uncluttered but offer less storage space.
Kitchen Size:
Of course, a full, French door, smart refrigerator fits in the kitchen. But are you sure it will fit through the front door, hallway, and kitchen door? Before you buy, you should measure all the openings that your refrigerator will have to go through to your kitchen. It is also essential to verify whether there is enough ventilation space around the refrigerator to avoid overheating after installation. You will need ½ or 1 inch on the sides and 1 to 2 inches on the back.
Select the features you want to use
Some new refrigerators have many tempting features for consumers to purchase, especially models with integrated smart technology. To avoid paying a high price for features you don't need probably, it's best to take some time to consider the features you will make the most of every day. It includes little things such as the technology of your water dispensers and ice maker and the basic questions: do you require a mega-capacity refrigerator just for the two of you?
Of course, if you're a smart home expert, that doesn't mean you shouldn't miss out on some really useful stuff, such as the ability to receive notifications on your phone if the fridge door remains open. However, if you're not tech-savvy, consider spending your budget on other features you might love, such as a full-length pantry drawer.
Choose the perfect finish
Stainless steel is the most sought-after finish for modern kitchenware when writing, but if you want additional hip points, black stainless steel will specifically pack them in. Many budget standard fridges are white, which means they will fit into almost any kitchen style or decor, so keep that in mind.
Should You Get a Smart Fridge?
The benefits of an internet-connected fridge are as controversial as they are a lot, and only people decide what truly is an "essential feature." However, here are some of our favorites;
Energy Monitoring:
Some of the smartest refrigerators may sync with smart grids and adjust energy usage accordingly, scheduling higher usage during off-peak hours.
Less food wastage:
Equipped with a built-in camera that you can access from a smartphone, consumers may check the contents of their refrigerators while shopping to avoid subsequent waste and overstocking. 
Temperature and Humidity Control:
Multiple foods require different temperatures to remain optimal. So if you want your vine ice cold but don't want to freeze your iceberg lettuce, you will be happy to know that smart fridges enable you to change the temperature in different compartments. Consumers can often do this spontaneously through the smartphone app to ensure that the fridge has preserved everything ideally.
Connectivity:
It is the most compelling argument to buy the smart fridge. Most smart refrigerators support a voice assistant like Google Assistant or Amazon's Alexa. So you can ask them anything from recipe tips to changing the water filter. You can also add them to a huge smart home network to control them from a smartphone or tablet.
Best time for buying a new refrigerator
Our fridge buyers guide recommends keeping an eye on annual sales online. An excellent time for buying most major gadgets is the months from September to December. During these months, manufacturers plan to introduce their latest models in anticipation of the festive season. The refrigerator you intended to buy may have a discount during this period. Also, last year's models may be cheaper than the new ones.
Before go to shopping, determine how much you want to spend and if you have some payment systems available for your purchase.
Conclusion
Although we've tried to put all the essential information you need to know before buying a new refrigerator, it's up to you to decide which one is best for you. Consider the characteristics that matter most to you such as  interior, space, family size, and budget. 
For more details, you can read user manuals for almost all types of refrigerators at Ownermanual.co.