5 Best smart lock for your home security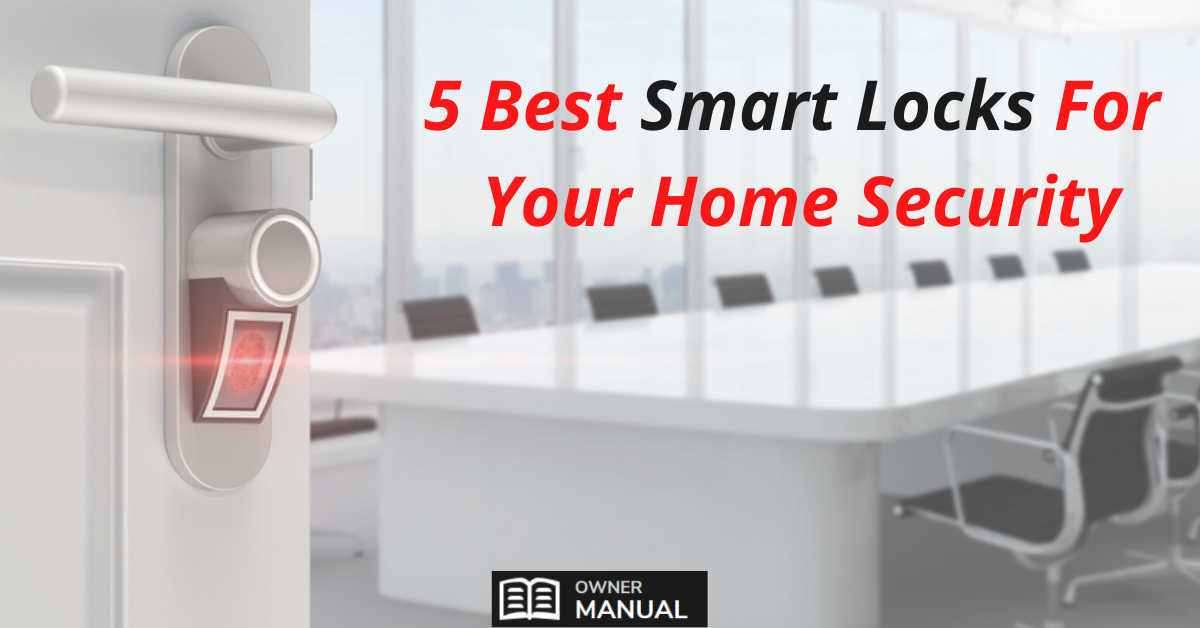 The best smart lock means leaving your house without a key is no longer an expensive nightmare. With the best smart lock, you can securely lock and enter your home without having a physical key, only with your smartphone.
In addition to being controlled via your smartphone, many smart locks also support voice control.
This makes it much easier to secure your house when you go to bed. You can ask the voice assistant in any of the best smart speakers or displays to do it for you.
You should instantly set a digital lock to secure your door when doorbells or home security cameras detect outdoor activity.
Likewise, you can set a smart lock to sound an alarm if it's used or accessed when you're not home or late at night when everyone is sleeping.
There are numerous digital door locks in the market, from non-invasive, discreet models perfect for apartment dwellers to fancy high-end models that utilize a keypad or fingerprint reader.
5 Best smart lock for your Home Security
Whichever style you select, these five best smart locks will replace the existing lock on your door, making them relatively easy to install.
Samsung SHS-1321 Digital Door Lock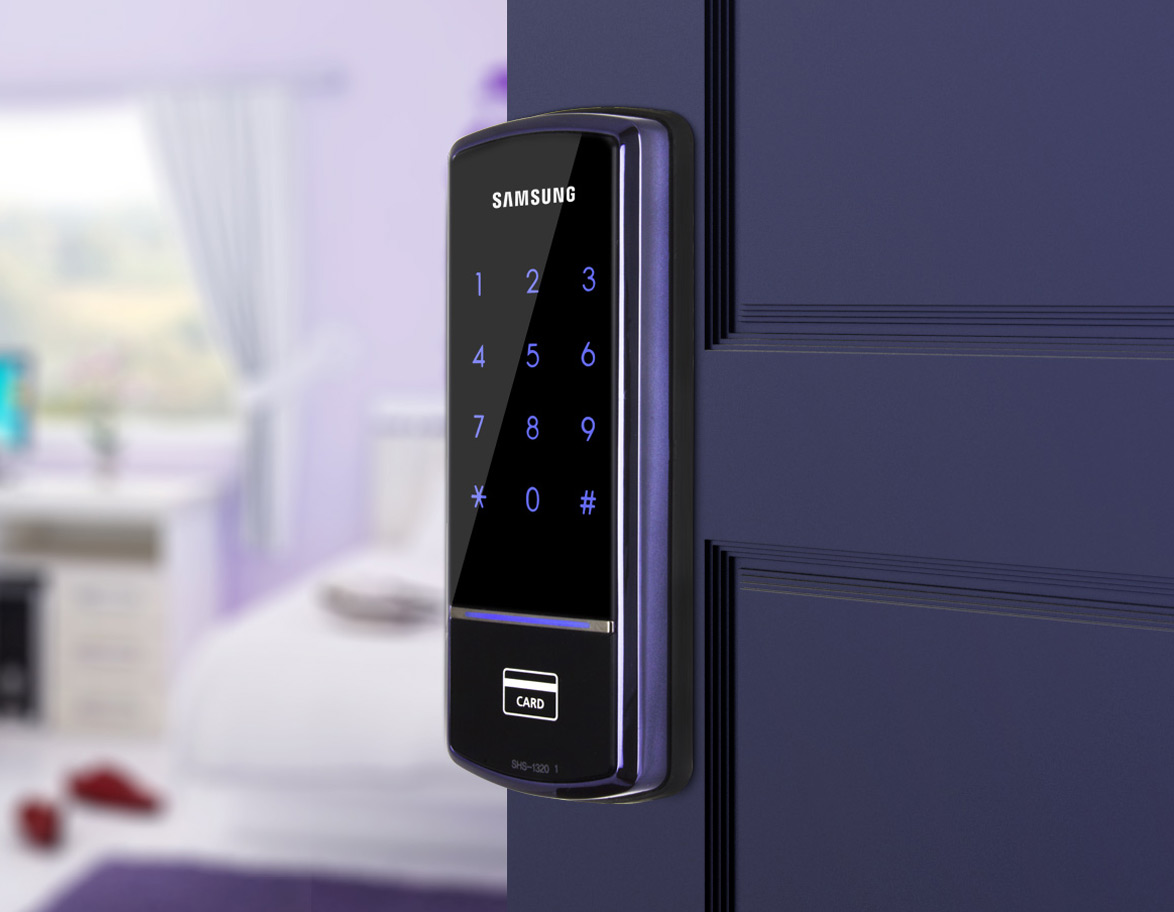 One of the best smart locks is the Samsung SHS-1321 digital door lock. It is extremely easy to use, stylish and elegant.
This Samsung door lock provides exceptional reliability; you can enable and strengthen home security with a dual authentication mode setting.
You must pass two authentication checks to gain access to open the door, enter the password, and access the card system. So it's safer and more secure.
With the One-touch feature, an alarm will sound if a thief has entered via windows, patios, etc., other than through the door attempts to use the front door lock.
Advantages:
Auto-lock function
Modern and sleek look
Emergency battery connection
Disadvantages:
As per some consumers, it is a bit difficult to install.
The touch screen is liable to scratches and cracks.
Yale Assure Lock Touchscreen
With this smart Yale lock, you can eliminate the need for metal keys while enabling your smartphone to handle a variety of lock functions.
For instance, even with the mobile in your pocket or purse, the lock will automatically unlock for you if it detects your approach.
This lock supports all major voice assistants (Google Assistant, Alexa, Siri), so you can use your smartphone, smartwatch, or smart speaker to give voice commands to lock from anywhere.
You can set it to lock automatically when the door gets closed.
With this, it is possible to create permanent or temporary digital codes for guests from your smartphone, allowing them access to your home without providing a metal key.
You can use the lock's numeric keypad to manually enter an access code if your smartphone is not at hand. It is available in four colors: bronze, black, nickel, and brass.
This Yale lock complements your home's exterior decor and replaces your existing deadbolt lock.
Advantages:
Easy to install
You can use it with a passcode, smartphone, or mechanical key
Create temporary access codes for certain visitors
Disadvantages:
No biometric feature is available
The touchscreen can become problematic when numbers do not press directly.
If the battery is dead and you are outdoors, you must utilize a mechanical key to unlock it.
August Wi-Fi Smart Lock
The August Wi-Fi Smart Lock looks like a solid metal 2.8″ round device. It has no keypad, fingerprint scanner, or slot for a metal key.
You can control the lock with a smartwatch or smartphone app, which allows you to develop temporary virtual keys for friends and family who also need access to your home.
Touchless unlocking is possible when you approach the door, even if your smartphone is in your backpack, purse, or pocket.
Whether using an Android-based smartphone or an Apple iPhone, this lock supports Siri, Amazon Alexa, and Google Assistant to accept voice commands.
It is fully compatible with Samsung SmartThings and Apple HomeKit. Installation takes less than half an hour with a screwdriver when replacing a single cylinder deadbolt lock.
Advantages:
Works with Android-based or iPhones smartphones
Create temporary digital passcodes for guests' smartphones
Everyone in your family can easily use this smart lock.
Disadvantages:
No built-in keypad, mechanical key support, or fingerprint scanner
You can buy an optional keypad separately
Kwikset Halo Contemporary Smart Lock
The Kevo Smart Lock, which features a circular design, has now been redesigned and upgraded. This lock connects with your home's Wi-Fi and allows control through your smartphone.
The lock recognizes your approach and automatically unlocks the door even if your smartphone remains in your pocket.
You can also set the lock to accept voice commands, fingerprint scans, or utilize a traditional metal key. Matching door handles are available separately.
Like all of the smart door locks featured in this blog, you can install this one within 30 minutes into a standard door that's less than two inches thick and has a standard 2 1/8 inch hole for the lock.
The lock is BHMA certified Class AAA in durability, security, and finish.
Advantages:
Provides multiple ways to control the lock
Includes Google Assistant and Amazon Alexa support
Maintains a history of people entering and exiting
Disadvantages:
Lack of Siri support and Apple HomeKit
Expensive
Lockly Secure Pro Smart Lock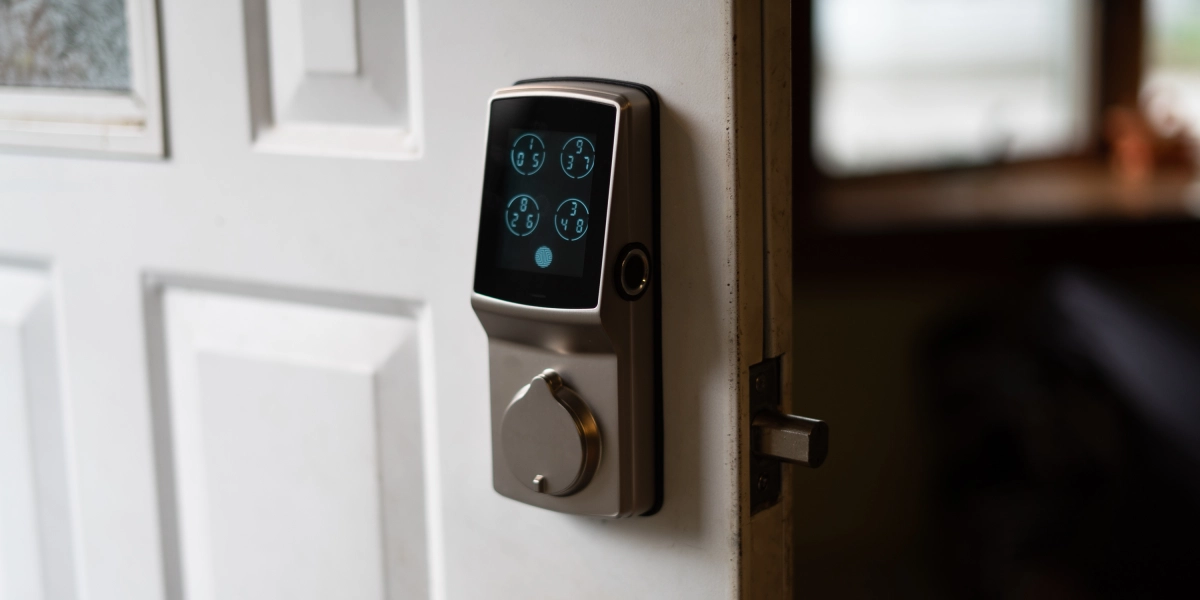 This smart lock is available in matte black, bronze, or nickel. Choose between a freestanding deadbolt or a latch handle design.
It works with both Apple iPhone and Android-based smartphones to manage and control the lock virtually anywhere.
However, you can use the modern-looking numeric touchpad or the built-in fingerprint scanner to grant permanent or temporary access to your home. You can create and enable numeric passwords and disable them anytime through the mobile app.
This smart lock can also accept voice commands from any of the sought-after assistants, or you can lock or unlock it with a physical metal key. This smart lock comes with the required Wi-Fi hub.
Advantages:
Offers a smartphone app control, voice control numeric keypad, fingerprint scanner
Alluring matte black finish
Recognizes a saved fingerprint in not more than 0.5 seconds
Disadvantages:
Limited to storing eight user passwords
Requires included hub for Wi-Fi connectivity
What Makes the Best Smart Door Lock Better than Key Locks?
The best smart lock is as secure as a standard deadbolt lock. However, you can manage the lock remotely from anywhere utilizing your smartphone or other adaptable equipment. It provides you with much more flexibility than utilizing a standard mechanical key.
For more information, you may visit Ownermanual.co to download the user manuals of Samsung, LG, and many other famous brands of smart door locks.