The Best 6 French Door Refrigerator in 2022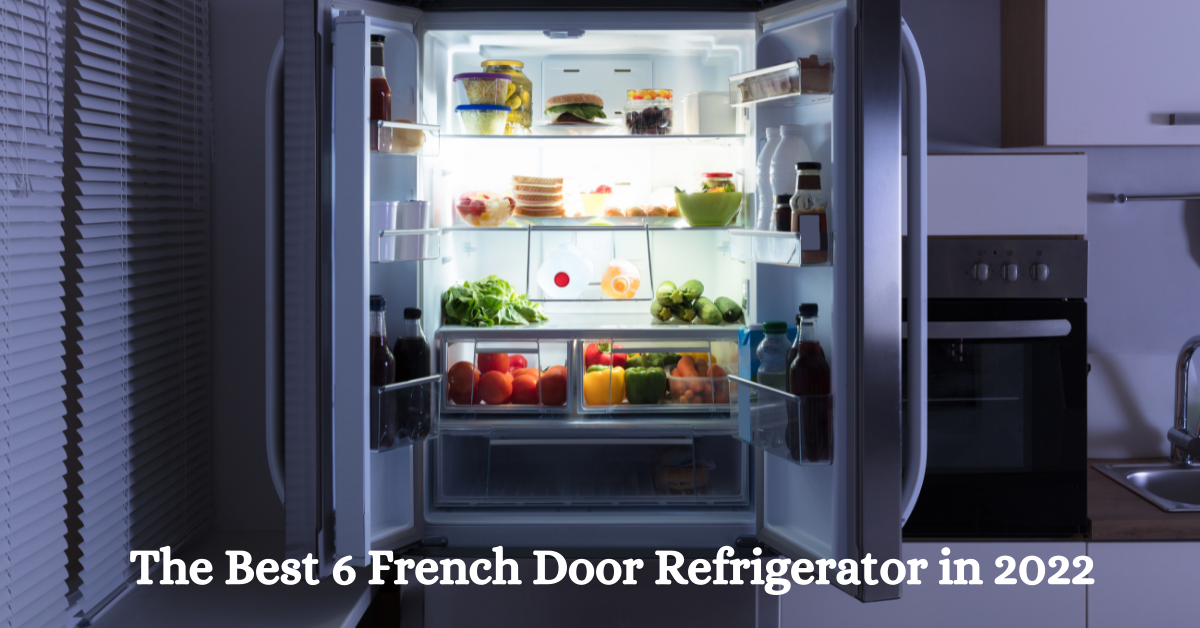 A French door refrigerator is similar to a French cabinet. It has two adjacent doors at the top and one or two drawers below. The upper doors are for the refrigerator area, and the lower drawers are specific for the freezer compartment.
Mainly due to its modern look and effective space utilization. For more than ten years, it has become the most sought-after refrigerator in high-end kitchens. The double doors take up less swing-open space than the doors on top freezer models. The open design lets you store huge and heavy items like pizza boxes and meal trays where a side-by-side model would not fit them.
French door refrigerators are also excellent for families, as they maximize refrigerated space at the top and provide an accessible, slide-out freezer compartment below. As the ideal model, French door refrigerators tend to have the modern features and the latest technological advances, so they lie in some of the most expensive model categories.
Top 6 French Door Refrigerator You may Consider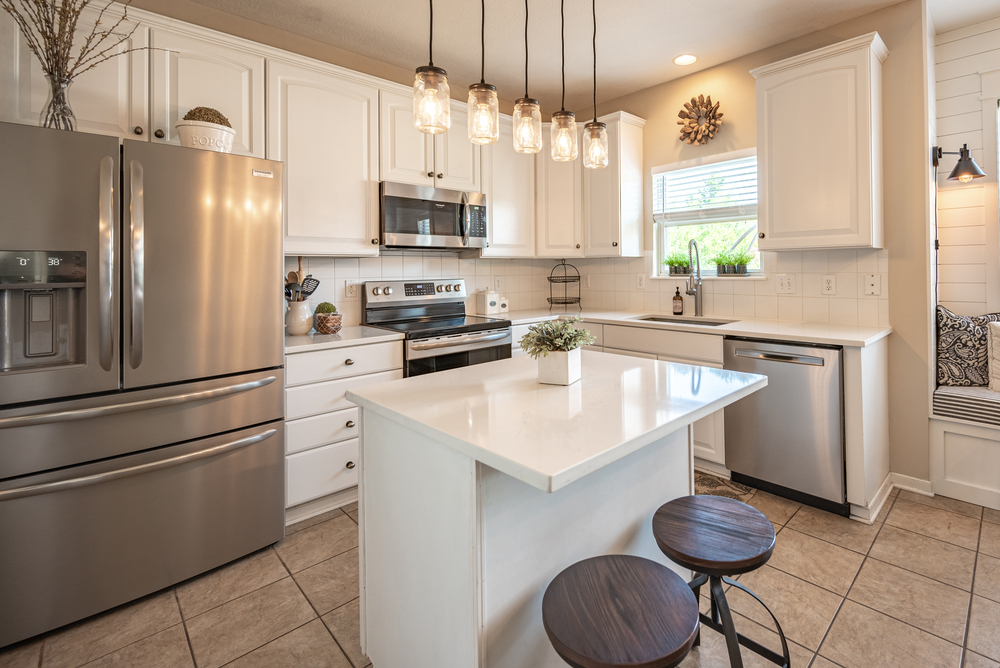 Following are the best six French door refrigerators you must consider:
LG 26.2 cu. ft. Smart French Door LFXS26973 Refrigerator
The LG Smart French Door refrigerator takes first place in our rating of the best French door fridge of 2022 and our overall rating of the best refrigerators with 4.3 points out of 5.
It costs 2,849 $ and features a full-width refrigerator drawer and gallon-sized door bins for juice and milk jugs. With a total capacity of 26.2 cu. ft. and a double ice maker involving indoor water and ice dispenser and an ice maker in the freezer, this LG offers plenty of storage space and may produce almost 12 pounds of ice per day.
A smart Wi-Fi-enabled model, this LG refrigerator can connect to the company's app so you can remotely manage the temperature, receive alerts if the door is left open, and assist in diagnosing potential problems.
Samsung 27.7 cu. ft. 4-door Refrigerator RF28R7551
The Samsung French Door RF28R7551 took second place in our ranking of the best French door fridge of 2022, scoring 4.2 out of 5. It costs 3,899 $ in its cheapest spec, is the most expensive model in our reviews, and is a 4-door, Wi-Fi-enabled model with a large capacity of 27.7 cubic feet.
It has a 21.5 inches touch screen integrated into the right door from which you can see inside the refrigerator with the internal camera. The Samsung refrigerator connects to the app on your smartphone and responds to voice control with Samsung's Bixby voice assistant.
It has an in-door ice and water dispenser, Energy Star-certified, and a FlexZone drawer under the fridge with four different temperature settings for meat, deli, drinks, and wine. Adjustable shelves for large items, gallon door containers for milk churns, a quick cooling feature also known as Power Cool, and a fingerprint-resistant finish make it a luxurious fridge.
Whirlpool 25.2 Cubic Feet French Door WRF535SMH Refrigerator
The Whirlpool French Door WRF535SMH, which ranked third in our reviews, is the most affordable French door refrigerator we recommend. Its price starts from 1,799 $, nearly 1,000 $ less than our top-ranking model. It has a slightly smaller overall capacity at 25.2 cu. ft. but a larger fridge capacity compared to the top two models. This Whirlpool model features three doors with a full-width, temperature-controlled container in the main refrigerator to keep party platters and other spacious items.
It has an ice maker in the freezer and is Energy Star-certified. It does not enable Wi-Fi. However, it does have an intelligent temperature management function. It offers fingerprint-resistant black and stainless steel finishes. Moreover, a white finish allows you to match your décor. Gallon-sized door containers conveniently hold your juice and milk jugs while freeing up shelf space.
Cafe 27.8 cu. ft. Smart CVE28D Four Door Refrigerator
GE Appliances' Café Smart French Door CVE28D, also ranked #3, is the most expensive refrigerator in our review of the best French door refrigerators of 2022, starting at 4,199 $.
Having a capacity of 27.8 cu. Ft., indoor water and an auto-fill ice dispenser ability, and Wi-Fi connectivity, the Cafe is a high-quality smart refrigerator. A four-door fridge features a second refrigerated drawer with a temperature range from 23 to 42 degrees, ideal for storing meat/fish, beverages, and huge trays.
This Café model features adjustable shelves and a quick chill function and is Energy Star-certified. To match your kitchen hardware, you can customize your door hardware for an additional 399 $.
Maytag 24.7 cu. ft. French Door MFI2570FE Refrigerator
Taking fourth place in our ranking of the best French door fridges of 2022, the Maytag French Door MF12570FE is a mid-range model that costs 2,299 $ for a fingerprint-resistant stainless steel finish. At 24.7 cu. Ft., it has a smaller combined capacity than our top-of-the-line models. However, it has the largest cooling capacity at 18 cu. ft. and features a deli drawer in the fridge.
Equipped with an Energy Star-certified indoor water and ice dispenser, the Maytag also features a PowerCold system that cools your food rapidly. The refrigerator has controlled via a touch panel but has no Wi-Fi connectivity.
GE Appliances 27.9 cu. Ft Smart PVD28BYNFS Four Door Refrigerator
This four-door smart door-in-door refrigerator from GE Appliances costs 3,999 $ and ranks no. 5 in our ranking of the best French door fridges of 2022, scoring 3.8 out of 5.
It has the largest combined capacity in our ratings at 27.9 cu. ft. and is the highest-ranking door-in-door model. Door-in-door is a feature that allows you to partially open the refrigerator to access frequently used items. Adjustable shelves, soft-close drawers, and a separate temperature-regulating fridge drawer offer flexible storage choices.
Equipped with Energy Star certified with an indoor auto-fill water and ice dispenser, Wi-Fi connectivity, and touch panel controls. Additionally, the GE is a smart refrigerator that works with Amazon Alexa voice assistants and Google Assistant.
Is a French Door Refrigerator Good for Me?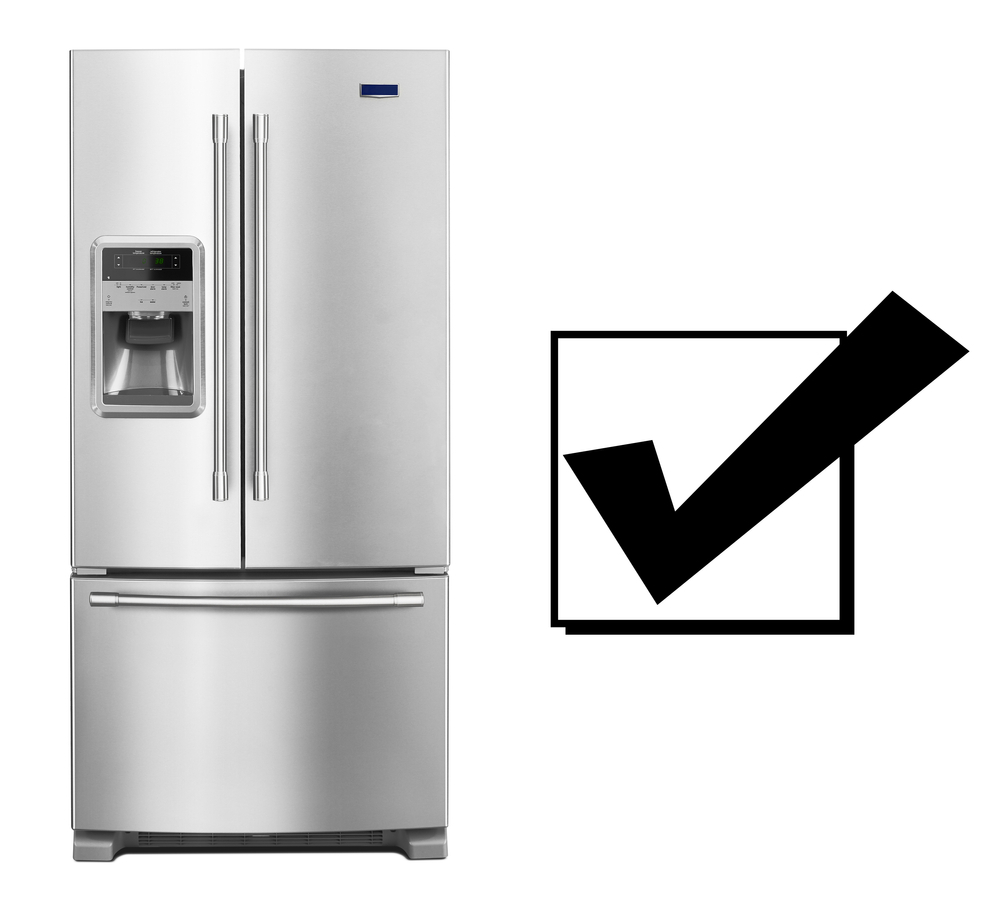 Best for:
Trendy kitchen designs

Households that want fresh foods at eye level

Tech-savvy consumers interested in intelligent refrigerators
Not recommended for:
Rebuilders on a tight budget

Those who require an easy to organize freezer with shelves

Individuals who don't like bending over to get to the freezer
For detailed user manuals of various refrigerator models, you may visit Ownermanual.co.